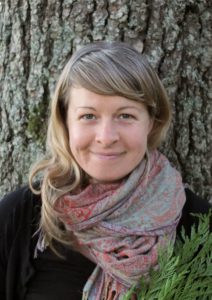 Jessy Delleman
Jessy is a herbalist, teacher, herb grower, wildcrafter, and medicine maker who feels most at home among the plants. She is the founder of Fireweed Farm & School, a small organic herb farm based in Brentwood Bay BC, on Southern Vancouver Island. Fireweed grows rare and hard to find organic medicinal herb plants and seeds, offers high quality herbal products, and provides education on herbal medicine, wildcrafting, herb growing, and nature-based arts.
Jessy began her journey in plant connection surrounded by her mother's folk herbal remedies and foraging in the pristine Yukon wilds where they homesteaded in her early years. Living close to nature as a child instilled in her a deep sense of awe and connection to the natural world. Her roots in herb farming became established at Ravenhill Herb Farm, which she operated from 2008- 2014. In 2010 she founded the seed business Ravensong Seeds which now makes its home at Fireweed Farm.
With a background in biology, botany, horticulture, and fine arts, Jessy has formal herbal training with various herbalists and herbal schools including Wild Seed School, and the School of Evolutionary Herbalism. She is a practicing herbalist specializing in family herbal medicine, and offers herbal consultations at her home apothecary in Brentwood Bay. Jessy believes in the power of nature to heal, and feels spending time with plants is the best medicine of all.