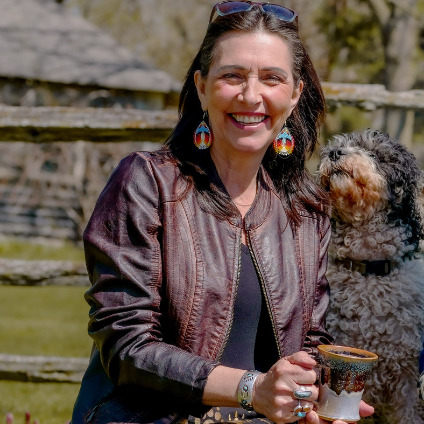 Lauri Hoeg
Lauri Hoeg is Anishnaabe qwe and a member of the Chippewas of Georgina Island First Nation. She has been serving her community for the past six years on band council and holds the culture, language and education portfolios. She obtained a degree in Public Administration and Governance from Ryerson University and is a board executive with the Kinoomaadziwin Education Body who governs the largest education self-government agreement in Canada.
Lauri's first love is art and anything that inspires her creativity. Her crafting began as a child when her mother taught her traditional beadwork that she continues to enjoy to this day. Lauri also enjoys quilting, jewelry making, ash basket making and moccasin making, and also works with pen and ink and and watercolour. Her first choice of medium is acrylics. She creates florals and Ojibway paintings that are influenced by eastern woodland and west coast First Nation art.
Lauri is a mother of three children and two spoiled dogs. She practices herbalism and forages for wild foods on the east side of Georgina Island where she lives and creates in "Eagles in the East Studio".
https://www.facebook.com/LauriHoeg/
Workshops