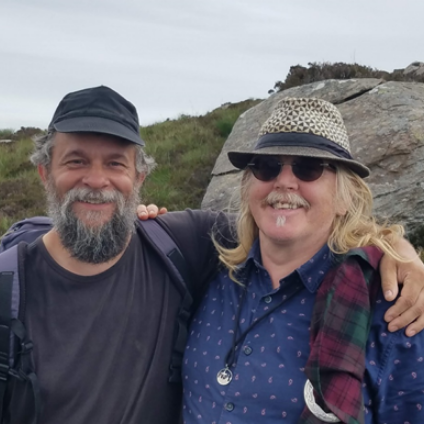 Danny O'Rawe & Keith Robertson
MSc (Herbal Medicine)
Danny O'Rawe ND MSc (Herbal Medicine) FIRH is a Herbalist, Aromatherapist and Naturopath from Ireland who has been working in the field of natural medicines for more than 30 years. He is a Fellow and former president of the Irish Register of Herbalists, Ireland's premier association for professional practitioners. He is Registered Naturopath specializing in Nutrition, and a member of the General Naturopathic Council in the UK. He is also a member of the American Herbalist Guild.
As well as running a busy multidisciplinary clinic, Danny also lectures in Herbal Medicine and Nutrition, and runs an advanced 3 year Apprenticeship in Western Herbal Medicine in Belfast, Ireland. He is a researcher, author, grower and consultant clinician, but still considers himself a student. He is the founder of the annual HerbFeast conference in Ireland. Danny is also a passionate advocate for Herbal Medicine and is the founder of Plant Healer Federation, an international voice for herbal medicine.
www.belfastherbalist.co.uk or www.excelsiorapprenticeships.co.uk
Keith Robertson MSc (Herbal Medicine) FNIMH joined the UK National Institute of Medical Herbalists in 1990 and served as a Council Member and on their Accreditation board for many years. He co-founded Scottish School of Herbal Medicine in 1992 and has been teaching his particular energetic approach since then. He was awarded a Fellowship of the Institute for his services to Herbal education. The School established a world first with its MSc and the associated and highly regarded 4-year BSc Hons degree before stepping back out of academia in 2010 and moving to the Isle of Arran to offer experiential learning through an Apprenticeship in listening to plants each year in Scotland; with an associated intensive course on Celtic Herbal Medicine and an international Correspondence Course at access level.
Workshops