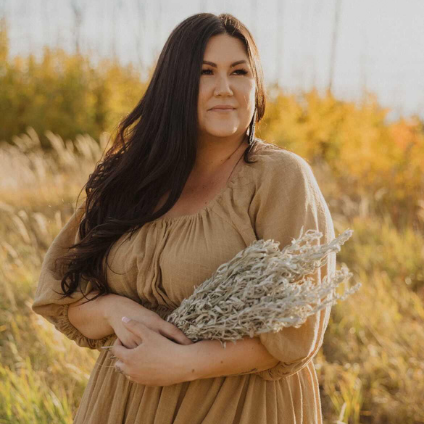 Sheena Bradley
Traditional Herbalist & Indigenous Birthworker
Sheena Bradley is a Traditional Métis Herbalist, Student, Medicine Maker and Indigenous Birthworker and the owner of Omisimâw Wellness (Ohm sim ow)-Organic & Wildcrafted Traditional Plant Medicine and Indigenous Birthwork. Located in nistawàyàw ("where the three rivers meet" traditional Cree name of Fort McMurray) on traditional lands of the Cree, Dene, and Mètis.
Having started learning Herbalism with the Herbal Academy of New England, in 2017, Sheena has progressed her love of traditional medicines, and now studies with Pacific Rim College. Leaning heavily on traditional knowledge from her Elders and ancestors as well as traditional knowledge from being on the land, and listening to plant spirit and being in relation with our plant kin.
Sheena is a member of the Alberta Herbalists Association, Indigenous Birth of Alberta, and sits on several committees in her community related to Indigenous land stewardship and Birthwork. Sheena volunteers by creating several medicinal gardens through out her community as well as teaching about reciprocity and respect for harvesting medicinal plants. She also teaches about healing trauma through plant connection. Sheena gives back products and medicines to local Elders and families who's traditional lands she harvests on, as a way to give back and offer accessibility of plant medicines to our Elders.
Sheena is continually learning and growing in her practice and looks forward to creating meaningful conversation with other herbalists regarding reciprocity and respectful land stewardship.
http://www.omisimawwellness.com/
Panels