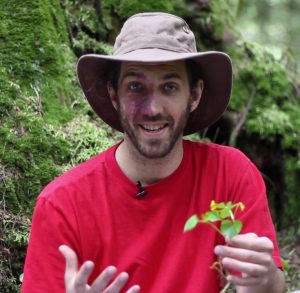 Garliq
Fascinated with plants and healing remedies for as long as he can remember, Kyle Patton's life and name changed for the better while learning about herbs at a school much like the one he proudly runs today. Kyle experienced first-hand the healing powers of garlic and soon his classmates nicknamed him Garliq, and it stuck.
Today, Garliq works passionately to support empowered people to live in self-reliant, healthy communities so that we can collectively bring humans back into balance with the Living World. Garliq passionately supports community-minded folks who want the medicines in their homes to fit with the values in their hearts.
Local herbal medicines and wild foods are Garliq's not-so-secret weapons as he teaches how to feel safe, confident and excited to find, gather and make herbal foods and remedies that support the health and vitality of your families and friends.
A sought after speaker, Garliq excites and empowers groups, big and small, about the Why, the How and the Wow of personal and community empowerment through plant medicine. Garliq has taught hundreds of students over the last 5 years through the Urban Herb School in Vancouver. Having now moved to Nelson, he's shifted his focus to include a thriving herbal healing practice. In the Spring of 2014, he will begin teaching in the Kootenays with the Living Medicine Project, a non-profit, community healing that aims to bring the healing of plant medicines to families and community through treatment, education and social justice work.
A great source of Garliq's passion stems from the empowerment he feels every time he gives his own remedies to his children. His passion blossoms outward from there, with a deep desire for truly healthy communities and meaningful connections with the Living World for everyone.
Workshop
The Vital Role of Empathy in First Aid
Herb Walk
Herb Walk for First Aid