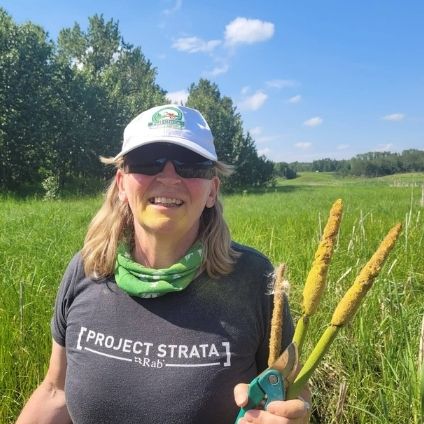 Julie Walker
BPE
"I see the edible plants of the forest floor as a universal way, for people to realize the value, of nature's intact native landscapes. I have a strong conservation ethic, so I love the idea of re-wilding our gardens. My own garden is a great example of that, and I could feed four people throughout the year, quite easily with native plants!" – Julie Walker
I am an Outdoor Woman. Many years ago, I realized the outdoor community still had a conquering attitude towards nature. I decided the to create a company that focused on building our relationship to nature and founded Full Circle Adventures. I had bee a hiking, backpacking and snowshoeing guide since 1987. I received my Bachelor degree in Physical Education (BPE), with a major in Outdoor Pursuits, from the University of Calgary.
Since 1987, I have hiked in Kananaskis Country, the Whaleback (Bob Creek Heritage rangeland), Bragg Creek, Sheep River country and Banff National Park.
My goal is to build an understanding of the wild foods, their relationship with all the living things around them. Ethical harvesting comes when we understand the plant communities, the plants, birds and animals who depend on each other. This knowledge helps develop 'best practices', to protect the fragility of our natural food eco-systems.
My vision is to engage and educate landowners, gardeners, foragers and the outdoor recreation community, about the value of preserving intact wildlands and to inspire home owners to grow native, edible plants in their own backyards. By Re-wilding our home landscapes and building back plant diversity with native, introduced and traditional herbs and vegetables, we don't need to forage in the wild. This is the ultimate in Wild Plant education!
https://www.fullcircleadventures.com/edible-plant-hiking-adventures/
Workshops