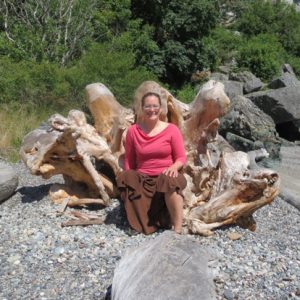 Kristy Bredin
Kristy began her journey as an herbalist in 2009, when she began a two-year apprenticeship with herbalist Robin Rose Bennett in New York. For the past 7 years she has worked with Ryan Drum, wildcrafting medicinal herbs and cultivating an in-depth knowledge of traditional Western herbalism and local plants and seaweeds. From 2013–15 she ran a small business specializing in plant remedies of the Pacific Northwest, Mermaid Botanicals.
Kristy practices as an herbalist on Orcas Island, WA, working with clients to support their physical, mental and emotional well being through nourishing foods, herbs, and lifestyle choices. She has studied clinical herbalism with Chanchal Cabrera, Paul Bergner, Matthew Wood, and Margi Flint
Kristy is passionate about exploring the natural world and working with wild plants in ancient and creative ways. In 2017 she founded an Herbal Medicine Apprenticeship Program on Orcas: an immersive exploration of wild foods, seaweeds, and plant medicines of the San Juan Islands, featuring classes and retreats with Ryan Drum. This course is part of 3-year cycle through which participants gain a well-rounded knowledge in identifying, harvesting, and processing native and naturalized plants for food and medicine; sustainable wildcrafting; the role of medicinal plants in our ecosystem; invasive plant medicine; wild plants as nutritional support and medicine for mind, body, and spirit; seaweed harvesting and uses as food and medicine; and the tradition, culture, and lore surrounding plants that grow in our region. The Apprenticeship is a unique field-based opportunity for local and regional students to explore the world of plants through sensory awareness, to make medicine and share wisdom in community, and to change the world through the healing power of plants.
<h3>Workshops</h3>
The Healing Power of Bitters
Wild Carrot and Contraception