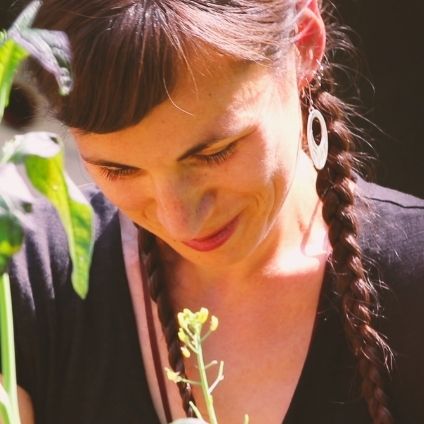 Tiffany Freeman
R.Ac, TCMD, Reg. Cl.H RH(AHG)
Tiffany Freeman, she/her, traditional name is askîy maskihkiwiskwew, earth medicine woman, is a mixed nêhiyaw of Treaty 1 ancestry (Peguis First Nation) living on Treaty 7 territory in Mohkinstsis (Calgary, Alberta). Professionally Tiffany is a Registered Acupuncturist (CAA), a Traditional Chinese Medicine Doctor (AAATCMD), a Registered Clinical Herbalist (American Herbalist Guild) and an Indigenous Birthworker.
In clinical practice Tiffany focuses on client centred gender inclusive medicine, and has a speciality in sexual, reproductive, generative health and birthwork. She offers care for birthing parents through all phases of pregnancy including pre-conception, fertility, pregnancy/ pre-natal and postpartum care; bringing her Indigenous traditions, ceremony & traditional food knowledge to her birthing parents & families as well as care through herbal protocols & acupuncture.
Alongside her clinical practice Tiffany is also an instructor, author and educator teaching a variety of courses in herbalism, assessment techniques, and reproductive, generative & sexual health courses. She is an instructor/author at Wild Rose College of Natural Healing and offers seminars and workshops around North America through various schools, community organizations and herbal gatherings.
A mother of three, Tiffany incorporates her cultural and traditional values as a mixed nêhiyawi (Cree First Nations) with her studies and practice of Traditional Chinese and Western herbal medicine to create a wholistic & inclusive healing experience for her patients and the families she works with.
https://tiffanyfreemanwellness.org/
Workshops
In Conversation with Keynote Address: Resilience, Reciprocity, Respect
Herbal Energetics: How flavour informs the therapeutic affect of herbs