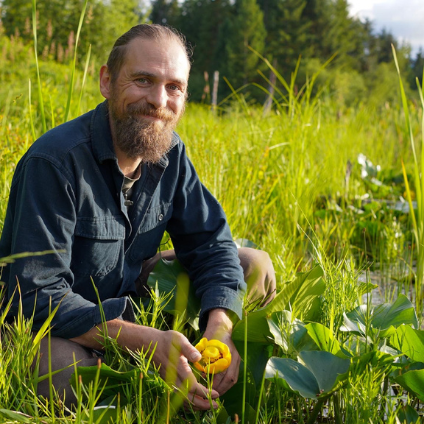 Yarrow Willard
Herbal Jedi Cl.H.
Yarrow Willard is a Clinical/Master Herbalist, co-owner/formulator at Harmonic Arts, and director of Wild Rose College of Natural Healing.
Yarrow is a second-generation Herbalist that has been steeped in the world of plant medicine since birth.
He has spent much of his life growing knowledge and experience around reclaiming wellness, vibrant living, and deepening connections with the natural world. 
Yarrow is an active content contributor via blogs, articles, social media and over 100 Youtube videos.
He has developed and brought to market a number of successful herbal products, and is an influential innovator in the Canadian health food market. 
As a speaker, teacher, entrepreneur and plant medicine advocate, Yarrow is highly engaging, dynamic and entertaining- continually delivering rich and original content.
His insights into the modern world stem from a holistic infusion of scientific validation, old world knowledge and a sprinkle of magic.
Many of Yarrow's offerings are based on health empowering practices with plant medicine, advanced nutrition, sensory perception, natural alignment, and more.
Workshops
Value Driven Packaging for Herbalists
Truth and Reconciliation from a Settler Herbalist
Quality Assurance in Herbal Product Manufacturing
Panels
Moderator of Resilience - Tools for building healthy communities and supporting regenerative change