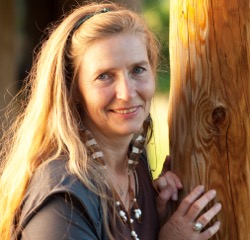 Alexandra Luppold
Alexandra: Author, Artist and Systemic Constellation Facilitator. Assisting people to deepen and expand their consciousness on their path to inner peace on many aspects of life. Through her guided journeying with the sacred CosmoGram, ceremonies, workshops and seminars she reaches deep into ones' heart.
In 2003 Alexandra was gifted with sacred geometry messages, which she has channeled since in the form of Sacred CosmoGram images. These beautiful images are multidimensional communication portals with the cosmic heart (Telegram from the Cosmos). The CosmoGrams are a key part in Alexandra's guided journeying; they help decipher the mysterious code to take people beyond their mind and mental understanding.
In her private practice Alexandra offers Pineal-Heart-Activation and Attunement 21-Day+ Program, Systemic Constellation Ceremony, 1:1 sessions and more.