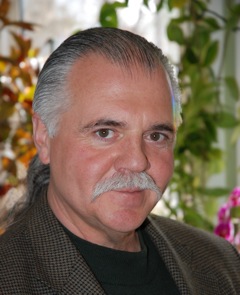 Blaine Andrusek
Blaine Andrusek has been teaching various aspects of herbal medicine for over 35 years. Beginning in his homeland of the Boreal Forest in Northern Saskatchewan, Blaine was experimenting with living off the land while still in his teens, experiencing all-season outings as long as 3 ½ months. On moving to Calgary, Blaine signed on with the just formed Wild Rose College, became one of their earliest graduates, and has maintained a teaching affiliation ever since. Programs have included Botany, Herb I and II, Herbal Pharmacy, Wildcrafting and others.
In 1991, Blaine took a keen interest in essential oils and completed training with Michael Scholes of England, Margrit Muller in France, John Steele, Jeanne Rose, Kurt Schnaubelt and the Pacific Institute of Aromatherapy (all US) where he has also presented for international audiences. Blaine has also taught Aromatherapy for numerous massage schools, as part of his own Calgary-based business, and continues to provide keynote addresses from Toronto to San Francisco.
Clinical practice began in 1993 and continues today, along with extensive essential oil formulating and distribution.