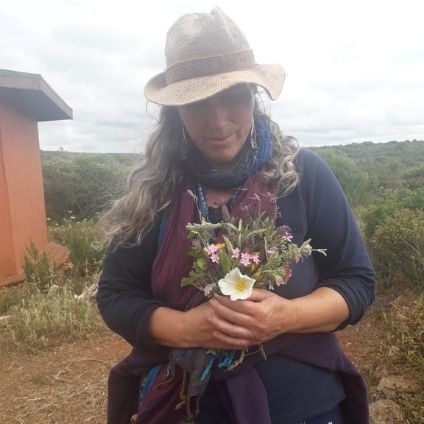 Maureen Robertson
MSc. MNIMH
MAUREEN has over 25 years of experience working with herbs. She co-founded the Scottish School of Herbal Medicine (1992-2010) which offered courses & professional training at BSc and MSc degree level.

At the same time she encountered Goethe's way of studying "the Holy Open Book of Nature" via Rudolf Steiner and discovered an approach of wholeness to studying plants. She developed a clinical application of Goethe's method that shaped her herbal practice and more recently her research in Medical Astrology and Astro-Herbalism further deepens the way she supports those she works with.

She established a Herbal Apprenticeship on the Isle of Arran, Scotland before relocating to Portugal. She now runs Melilotus Herb Farm in Algarve offering Herbal Apprenticeships, the Herbal Path course, Monthly Herbal Study Circles, Individual Tutorials & Herb Walks and herbal consultations. The recently launched Cosmos of Herbs 6 month online course is the culmination of all her experiences.
Workshops
The Use of Medical Astrology & Spiritual Considerations to assess a case study of Chronic Fatigue Syndrome & Fibromyalgia